With friendly permission by maestro Chris Huelsbeck we present for the first time the complete, unabridged original Turrican soundtrack. The ADF-disk image (which works on all Amiga emulators) contains a never before released early version of the Turrican title as a bonus track.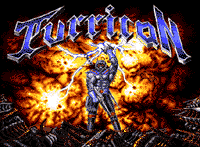 Download Soundtrack Turrisnd.zip
(337KB)
This disk-image is not provided for the public domain. You are entitled to download and use it only for non-commercial purposes. All copyrights are retained by their owners. Any distribution of this data through any medium unless specifically permitted by the copyright owners is not allowed.
If you want to buy the soundtrack CD for "Turrican - The Original Sountrack" please visit synSONIC records.